Infection Rate and Local Communications – In the seven days up to 15 January 2021 there were 801 new cases in Cherwell. This is equivalent to a weekly rate of 532.2 per 100,000 residents.
Whilst slightly down on last week, the figures for Cherwell are still over six times higher than they were in early December, so we still have a long way to go. Moreover, the NHS in Oxfordshire is currently caring for twice the number of COVID-19 patients than at the peak of the first wave in spring 2020 and is under immense pressure.
We need to make sure the recent fall in cases is sustained and the only way we can do that is by sticking to the lockdown rules and following public health guidance. The measures are there to protect the NHS and our vital social care services, and to save lives. It is vital everyone does their bit during this difficult period to support the NHS and our social care staff to stop the spread.
There is now a COVID-19 dashboard on the county council's website where you can access daily COVID-19 statistics.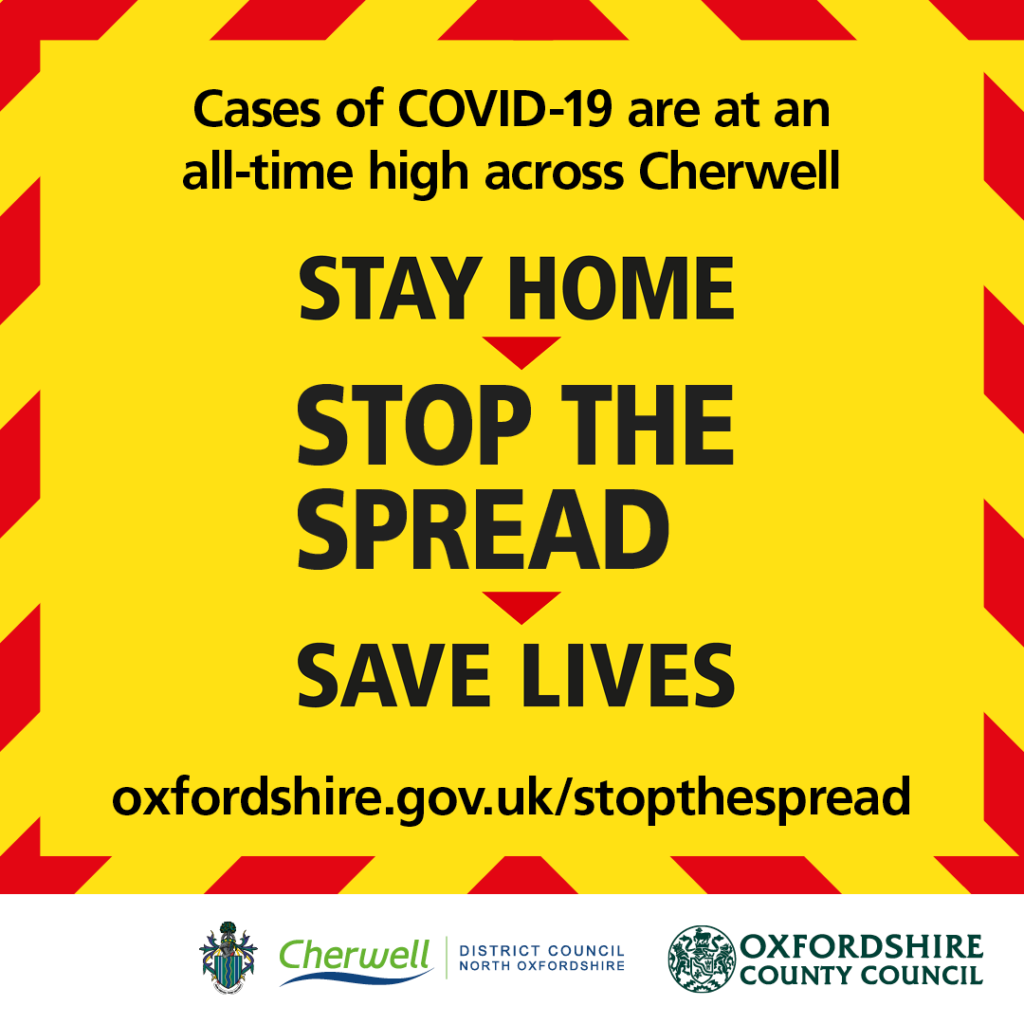 Testing – Testing is a key part of our response to the virus. Across Oxfordshire, we have a range of testing sites for people who have coronavirus symptoms, including drive-through sites, walk-through sites and mobile testing units. Booking is required for all testing sites.
Community COVID-19 testing services for key workers will start to be rolled out in Oxfordshire in early February. The new service will be for those who have to leave home to go to work during lockdown. They will be at three locations in the county – one in Banbury, one in Wantage, and one in the city of Oxford. More information can be found in the news story on the county council's website.
Vaccination – Local vaccination sites often serve a number of GP practices – this means that patients may need to travel to a neighbouring town or village to receive their vaccination. Each local vaccination site is managing its own patient lists and is working through them as quickly as possible, as vaccine supplies are delivered. Vaccine supplies are being allocated nationally and so not all sites will be operational all of the time. You can find a list of local vaccination sites and the GP practices they serve at www.oxfordshire.gov.uk/stopthespread.