The church of St Mary Magdalene is is part of the Benefice of Westcote Barton with Steeple Barton, Sandford St Martin, and Over with Nether Worton.
It is situated in the centre of the village of Duns Tew, not far from the Village Hall, and is a much respected part of community life.
The church is built of the honey-coloured Hornton stone. The font and porch date from 1200AD and the arcade of pillars with carved heads is 14th Century. In the 19th century the interior was restored, and is almost entirely Victorian. The lychgate at the entrance to the churchyard was built to commemorate the year 2000.
Open daily from 09:30 – 18:00

Services
Everyone is very welcome at our services. Because the five parishes (six churches) share the one Rector, the services rotate around the Benefice and times and types of services vary from week to week. Please check our website for times of services and for special services and events: www.dornandridgebenefice.org.uk. A Benefice Services chart can also be found in the Pages & Links section of Duns Tew Church on the national Anglican website, www.achurchnearyou.com.
Bells
The tower has a ring of five bells, tenor 14.5 cwt in F – one of the heaviest rings of 5 in the country!
Richard Keene of Woodstock cast the second bell in 1668 and the third bell in 1694. Matthew III Bagley of Chacombe, Northamptonshire cast the tenor bell in 1768. Robert II Wells of Aldbourne, Wiltshire cast the treble bell in 1790. Charles and George Mears of the Whitechapel Bell Foundry cast the fourth bell in 1858. St Mary Magdalene's has also a Sanctus bell cast in 1828 by Thomas II Mears of Whitechapel.
Our Vicar
We are very pleased to be able to tell you that a new rector has been appointed to the benefice. Reverend Jane Wright will be moving into the Westcote Barton rectory sometime in the late summer or early autumn. Jane is currently working in a rural benefice in Suffolk, so is used to country life. She and her husband Alan, a retired Methodist minister, are very much looking forward to meeting everyone and working with us.
The PCC would like to thank you all very much for your patience, prayers and support during the vacancy. Do remember that even now services and activities are carrying on as normal. And although people come and go, and we go through good times and bad: God remains the same. He is always with us, loving each one of us every minute of the day.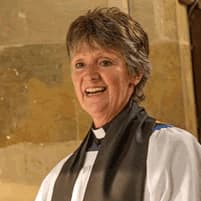 Email enquiries.bartonbenefice@outlook.com (for weddings, baptisms and so on)
Newsletters
Wardens