Plan ready for submission
Following our Pre-Submission consultation, which closed in October 2017, all the Plan documents have been amended to take account of many helpful comments that were submitted by local residents, various organisations and land owners, and statutory consultees.
We received 93 submissions in all, and it took until just before Christmas for the Forum to work through all of them in detail, deciding how we should respond in each case. You will be able to see a summary of all the comments submitted, together withMCNP's repsonse to them in the
Consultation Statement. This is one of the five mandatory documents that are about to be formally submitted to Cherwell District Council (CDC).
One of the documents, required by EU legislation, is a "screening" to demonstrate that the policies of the Neighbourhood Plan will not have a significant adverse impact on the environment. We had believed that this document would be prepared for us by CDC after submission, but were only
recently told that it must be done first. In the event we have had to produce it ourselves and are now planning for the formal submission in February, three and a half years after our Neighbourhood Plan was first conceived. Patience, we are told, is a virtue.
---
One of our policies, Policy PD3: Development at Heyford Park, has been a contentious issue for some months. At the time of the presubmission consultation the extent of the proposed "zone of non-coalescence" between Heyford Park and the hamlet of Caulcott (in Lower Heyford parish) was undecided.
In December, the Forum voted on a number of options and decided on a zone whose northern edge follows the parish boundary between Lower Heyford and what will in 2019 be the new parish of Heyford Park. The extent of the designated zone is shown here in yellow, marked Zone 2.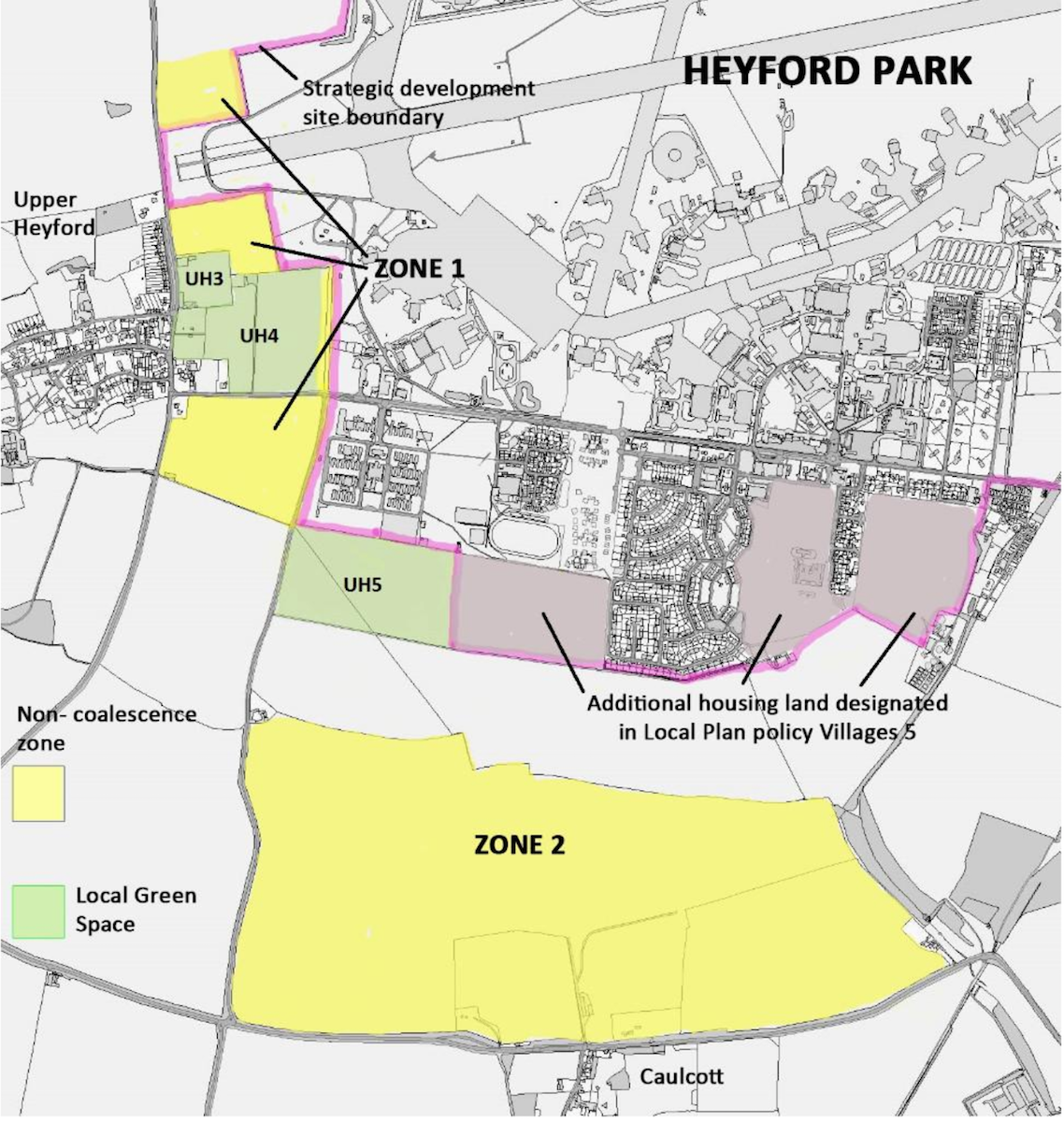 What happens next? Following our submission, CDC will publicise the fact and invite comments over a six week period. They will then appoint an external Examiner who will be given all our documents, all the responses to the Council's consultation, and any new comments of their own. The Examiner's report will then be published and any final amendments necessary will be agreed.